The PureSpin PRP® System offers several exciting and exclusive benefits to providers and patients, including:
The Fastest Double Spin Procedure On the Market: 2 spin cycles totaling 6 minutes! Significantly faster than even most single spin inferior PPP systems on the market today.
Best Value: Highest volume of PRP gained with a smaller amount of blood drawn from the patient, yielding the lowest price point per ml on PRP available.
Highest Platelet Recovery: Proprietary polycarbonate tubes reduces platelet adhesion that will occur from Polypropylene tubes, giving PureSpin PRP® maximum recovery equaling 80%.
Highest Amount of Deliverable Platelets: Deliverable platelets are the actual volume of viable platelets contained in a PRP sample. PureSpin PRP® provides upwards of 9.5 billion platelets in a 7 mL PureSpin PRP® sample.
Improved Patient Tolerance: Small volume of blood draw required. PureSpin PRP® has a hematocrit of less than 1%. This reduction of RBCs allows for use of smaller gauge needles and less patient discomfort than other devices on the market.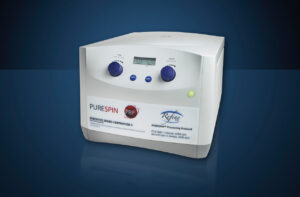 PureSpin PS-1 Marketing Brochure